Society unveils new name to reflect advances in microsystems packaging – The electronics packaging industry is experiencing tremendous expansion and revolutionary change with innovations such as heterogeneous integration, three-dimensional (3D) packaging and the Internet of Things (IoT).
To better reflect this new reality of its technology space and the society's increasingly important role as an unmatched repository of diverse microsystem packaging and integration expertise, the sponsoring society recently changed its name to the IEEE Electronics Packaging Society.
---
Dear members and colleagues,
Welcome this presentation of the recent activities of the IEEE-EPS German Chapter.
System integration has become the key to the development of modern products and a source for innovations. Advanced solutions for such systems not only depend on specific application requirements. Instead, selecting an appropriate technology is increasingly becoming an important criterion for realizing a cost-effective production.
Creating total system solutions monolithically on a chip (SoC) is held back by the extensive technical effort and high cost required. Therefore, it is simpler and more cost-effective to build hybrid systems (System in Package, System on Board) while continuing to take advantage of monolithic component integration with regard to miniaturization and reliability.
Thus, packaging technologies are becoming increasingly system (functionality)-oriented at all levels (wafer, chip, board). However, this change in course requires a completely fresh approach. For example, packaging opportunities and conditions have to become part of system design and materials selection.
The German Chapter of IEEE-EPS would like to present a platform for discussing and exchanging experience in current and future system packaging and manufacturing challenges. Meetings, workshops and interesting presentations should be the basis for creating feasible solutions for the day-to-day work and for extending the cooperation between companies, as well as between companies and research institutes.
You are cordially invited to join us in driving forwards the development of future assembly and packaging technologies.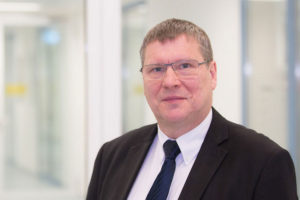 Rolf Aschenbrenner